Specialty Group Tours in Illinois Amish Country
Illinois Amish Country and Arthur, Illinois, can be the highlight of your group tour experience. ACM Tours can help your group get a more personalized experience with a specialized tour of Amish Country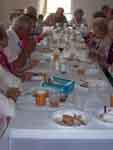 All of our group tour packages generally include time on an Amish farm, usually around the meal time for a special Amish home meal. After most Amish home meals, the hosts will offer a tour of their farm. However, if you wish to specialize your experience, or just wish to add a special experience and not include a meal, your group may enjoy:
Amish Horse Farm Tours – We have Amish friends that raise the large Belgian horses. These favored work and show horses stand taller than your head and yes are quite curious and gentle. Your host will get you up close and personal as you visit the barns and paddocks. While we currently do not have any Amish dairy farmers who will allow tours, your guide will be glad to tell you about flat land farming practices around the area.

Shopping in the Amish Country Shops – Most groups enjoy some time in a country store or two. These Amish owned shops service their community and also we "English." Most commonly we include an Amish country grocery store and possibly a quilt shop, depending on available time.
For 90% of our group tours, these three country experiences along with a bit of time visiting the unique shops in our small downtown make a full day for groups traveling more than an hour from home. These four items can easily consume four or more hours on the ground here in the Amish area. Check out our One Day Sample Itinerary for a possible time line for a visit plan.
However if your group has possibly already experienced the Illinois Amish area, or you want to put together a more unique experience, the following options are available: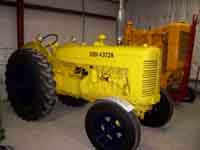 Illinois Farming Heritage – One local collector has gathered up many items of our farm heritage. Antique tractors, and other farm equipment, and a lot of collectible farm and early rural home life items and created the Harris Agriculture Museum. By appointment he will open his collection up to visitors and your group can get a true look into Illinois farm life from the turn of the last century.
Modern "English" Grain Farm – East Central Illinois boasts some of the riches black farmland on the planet, and it is worked intensively to help feed the world. Modern crop farming includes large fields, very large equipment, and an amazing amount of technical knowledge from mechanics to genetics to accounting to be successful. Driving thru the area with your guide will give you an appreciation of the corn and soybean "breadbasket to the world". As with the dairy farmers, our local grain farmers are friendly but can not take the time out to give detailed farm tours. Our guides show you some of the most modern grain farming equipment available and answers questions. We have number of implement dealers with whom we can arrange hands-on visits.
Amish Wood Shop Tour – We have worked with the Amish craftsmen for years offering their custom furniture in our retail shop in Arthur. While we can show you their final products, we can also take special groups out to them and let them explain some of their skills and abilities to create the renowned quality without the use of electricity from the raw lumber thru the finish shop to the end product, all right on the farm. Not for small children.
Amish Buggy Shop Tours – One of our local Amish buggy makers will take your group on an in depth tour of his buggy shop. He will show you the ins and outs of creating the undercarriage, the buggy body and discuss and possibly demonstrate the old art of wheel making. This very interesting tour will take about an hour and is available for groups of 20 or more. Not for small children.
Orchard Tours and Wagon Rides – Amish horse drawn rides are not common here in our more conservative Amish community. However, one local Amish orchard owner has made available a special wagon for group rides around the orchard. His farm also abuts one of the largest Amish cemeteries in Arthur and as you ride, he will tell you about his orchard operation and some of the local Amish funeral customs. As the wagon will only accommodate about 10 people, larger groups may require some time to enjoy this option.
Theatre – enjoy The Little Theatre on the Square in nearby Sullivan, Il. This recently remodeled "Equity Actor's theatre" is regarded as one of the best in the Midwest. You will definitely enjoy the show. Be sure to check their website to see what is available during your dates of interest. A nice combination is to bring together an Amish meal and a theatre performance, for a full day or to make a multiday visit special.
ACM Tours can incorporate any of these specialty tours into your groups plans. Let us offer an custom itinerary for your group!
An easy to do visit!
Easy to plan a day trip if you originate anywhere within the Chicago, St Louis or Indianapolis area.
We are easy to get to! Arthur is just 9 miles west off I-57 at exit 202 (Arcola), 30 minutes South of Champaign, IL (I-72 & I-74) and just 40 minutes north of Effingham, IL and the I-70/I-57 junction
Let us help with your itinerary details.