Meals in Amish Homes
ACM Tours can arrange for you and your group to enjoy a traditional Amish style meal, right in an Amish home, out on the farm. Almost all of our group tours and many family visits take advantage of this unique Amish Country experience.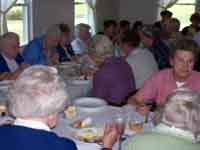 Amish ladies are very familiar with cooking for large groups. They often join together to cook for benefits, weddings, funerals, weekly church services, and extended family gatherings numbering up into the hundreds. Actually, with most Amish families having many children, as soon as grandchildren arrive, the family gatherings can become quite large. All of our meal providers can easily accommodate 50-60 people at one sitting. We have a few that can handles twice that many if necessary.
Amish Home Meals are generally available by advance reservation only. For groups of ten or more, advance notice of 7 days is requested. The number of guests for a meal can be changed (added to or reduced in number if your plans change) up to 72 hours in advance of the meal date. If you have a smaller group or if your visit date is less than a week off give us a call . We'll check with our hosts and see if we can't find one with time to cook. Bear in mind that our Amish hosts use a message service for our contacts and sometimes have to go over to a neighbors house to return our calls, so it takes a minimum of at least 2-3 days to confirm ANY meal plans. For smaller groups, occasionally one of our hosts will schedule a meal for as few as 5-6. We'll try to fit you in with another group if a meal is already reserved or pencil your visit date into our calendar and try to find additional folks to make minimums. The longer the advance notice the greater the chance that we can find and join groups for a meal. If your attending one of our special events here in Arthur, we might just have some open seating available. It does not hurt to check.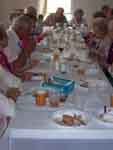 The filling, traditional Amish home meals are served family style, on traditional benches and folding chairs, right in the host's kitchen, living room, and/or dining room. Arthur Amish houses have large rooms, often with removable walls to accommodate large gatherings. We can seat up to 110 people at one serving in some of our homes. The meals offer two meats, one always fried chicken, vegetable, mashed potatoes and gravy, noodles, homemade bread, applebutter, "church" peanut butter, drinks and a choice of homemade pies.  These are not diet conscious meals, but hearty farm style meals. You will not go away hungry!
Your host will appreciate a group or silent personal prayer before the meal, and she or the family helpers are always on hand and love to chat after the meal. After the meal, our hosts will offer to take your group on a tour of the farm, show the horses and animals and answer questions about the farm and the horse and buggy lifestyle. This farm tour is included with meals at no additional charge!
Most of our group meal hosts are handicapped accessible. All are accessible to seniors with walkers and folks needing minor assistance. The farm tour itself does require minor walking over slightly uneven surfaces and building to barn distances of about 100 feet. Parking is usually close and some of our meal hosts do have 1-2 easy steps to the inside. Let us know ahead of any mobility restrictions and we can ussually accomodate them. Remember that in the summer, the Amish have no air conditioning. They do usually have fans porwered by other means. Occasionally on a hot, late summer day the meal area can be quite warm. A summer meal in an Amish kitchen can remind us of our past and help us to appreciate what we have back home. But, unless someone in your group has serious health problems, don't be scared off by this paragraph. Out here in the country, it is not that far back to when all of us enjoyed the summer this way.
Meals can be arranged at any time as best fits your groups needs, however most common are mid-day dinners(noon to 1pm) and evening suppers 4-6pm. We occasionally provide earlier breakfast / brunch meals for overnighting groups. Whenever we schedule your meal, you need to allow time to arrive in Arthur at least a half hour prior, to get directions and then drive out to the country to the hosts home. Usually we try to allow groups 1 1/2-2 hours for this meal and farm tour.
Our Amish Home/Farm Meals can be incorporated into any group itinerary and is usually the highlight of every visit!
A true Amish Country Experience!
Call us 1-888-321-9663